...if you are looking for
reasonably
priced
vacation homes and condominiums
to rent in
NAPLES
, Florida.
Here is a shortcut directly to us...
e-mail
.
Where in Naples do you want to rent?
(Please click on one of the pictures below...)
| | | |
| --- | --- | --- |
| | | |
| WINTER PARK, Davis Blvd, NAPLES, FL | | FALLING WATERS, Davis Blvd, NAPLES, FL |
| | | |
| WORLD TENNIS CLUB, Airport Road, NAPLES, FL | | HOUSE with private Pool, NAPLES, FL |
---
Naples
, THE CAPITAL OF GOLF, beautifully located in Southwest Florida, with
endless beaches
, with a climate which is always warm and sunny and golf facilities beyond your dreams. Click here what
Wikipedia
knows about
Naples
. Get the 'Florida Feeling' and have a look at our tabular overview of all
condominiums and houses
in Naples, Florida, please click
HERE
.
Please send us an
e-mail
, if you have any questions. You will already find many answers on our site
Help
!

Bargains / News
---
View from Pier on NOV 16

IAN
STATUS: 2 Dec 2022
In daily (vacation) life in Naples, one is very rarely confronted with the issue of IAN. A real 'upset' for the German Naples visitors is more and more the behavior of the German Lufthansa. Considering the unbroken stream of vacationers from Europe, the rebookings and flight cancellations are not appropriate and cause great annoyance and frustration.
STATUS: 16 Nov 2022
The author opened the beach season today with his wife and parked on 11th Avenue South. One of the beach umbrellas is his. A sign warns only about isolated debris in the water, but that doesn't stop many people from swimming.
STATUS: 09 Nov 2022
As of today, the first third of the NAPLES PIERS is open again. The restrooms to the left and right of the PIER entrance are also open. You can walk down the stairs from the front part of the PIER to the beach.
STATUS: 02 Nov 2022
The author drove down the entire Gulfshore Boulevard (including Venetian Village) today. On the side of the road, you can only find a pile of debris in front of each house about every mile. Lowder Milk Park and also the pier are still closed, but all other beach accesses at the avenues are open. Some people are already bathing in the sea again, although signs still warn of bacteria in the water.
STATUS: 25 Oct 2022
At 11th Avenue South the beach was open (see picture) and so were the beach accesses at the other avenues - only a sign says that swimming is still prohibited. The pier and Lowder Milk Park remain closed. The piles of debris along the roadsides are continuously being cleared by FEMA. They make quick progress.
STATUS: 22 Oct 2022
Situation report by the author of this website: Coming from the HOME DEPOT, we drove on the DAVIS BLVD towards downtown today. From the ocean the water was said to have come up to the level of OAK FARMS and lo and behold the store was closed. Then continued the stretch up US41 past TIN CITY looks the same as always. No visible damage, although the water was a foot high here. Then into FIFTH AVE SOUTH: Everything cleaned up, felt all restaurants are open, only the stores have empty windows and are of course closed. Then turned right into GULFSHORE BLVD heading north: Here it looks bad. The smaller, flat and old houses have been totally 'washed out'; all furniture and appliances lie broken on the roadside. In the more expensive, newer and higher houses, it doesn't look quite as bad. All lawns and streets are covered by a film of sand. Then we got off at LOWDERMILK PARK (beach) and walked through the barrier to the water's edge. Wonderfully clean sand and not a soul as far as the eye could see. BUT... the view of the wooden buildings with kiosk, showers and toilet offers a picture of horror. It looks like after a bomb attack. Repair is obviously unthinkable due to lack of substance - demolition and new construction seems to be the only option. I think the first step is to clean up the parking lot and level the access to the beach so the public can get back to it. Then we continued north going on CRAYTON; the same picture there, too - a mountain of broken furniture in front of every other house. Finally, at the WATERSIDE SHOPS the world seems to be in order. Continuing the good news: Everything east of US41, including WINTERPARK and FALLING WATERS, looks like there was no hurricane.
STATUS: 15 Oct 2022
Swimming in the Gulf is currently still prohibited due to high pollution. Walking and Sunbathing on the beach is tolerated. In Falling Waters you will have the feeling as if there was no hurricane: no damage, clean streets, open pool, electricity, water, internet and television are available. Hotel room rates have skyrocketed, and demand for rental properties in Naples is at an all-time high.
STATUS: 8 Oct 2022
Ten days after the passage of Hurricane IAN, which severely hit Southwest Florida, a first assessment is possible as of today. The islands of PINE and SANIBEL, as well as Fort Myers Beach have been devastatingly hit; the destruction and also the number of dead are enormous. A detailed description would go beyond the scope here. The situation in NAPLES is different. Basically, it can be said that the damage caused by the storm is surprisingly low, much less than during IRMA a few years ago. More dramatic this time was the damage caused by water (from the sea and from above). Affected in NAPLES were the areas south of US41-East and west of Airport Road. Since our main residential areas, FALLING WATERS, WINTER PARK and TENNIS CLUB are at higher elevations, they remained 'dry' with no damage to buildings or roofs. After only five days, electricity and telephone were available and the pools were reopened. WhatsApp worked, but there were still problems with internet and television as of today. Even in the Flooding Zone, 5th Ave and 3rd Street, some restaurants have reopened. Only swimming in the Gulf is currently still prohibited due to high pollution.
11th AVE S on OCT 25
---

Berlin gets closer to Fort Myers.
Word from Berlin's BER Airport is that NORSE ATLANTIC AIRWAYS will begin operating the Dreamliner Boeing 787 between Berlin and Fort Lauderdale-Hollywood International Airport (FLL) on Wednesdays, Fridays and Sundays beginning Dec. 7, 2022.
Frankfurt gets closer to Fort Myers.
Flights directly from Frankfurt am Main to Fort Myers will be operated by the Lufthansa Group from March 2022.
As we heard on 10/14-22, the Lufthansa subsidiary is suspending its service from FRA to RSW from 11/6-22 to 12/15-22. Rebookings are made to TAMPA, which entails a two-hour longer car ride to NAPLES.
Those who can should rebook on DELTA or UNITED, which of course continue to serve FORT MYERS on a regular basis.
---

Poolvilla in Cape Coral for rent!
Heated private pool. Sleeps 6. Big gas BBQ grill.
A MUST to see!
Affordable rental fee, brand new furniture. Click on the CLICK button for more information.
---
More than 100 self-catering HOLIDAY RENTALS are directly offered from owners in NAPLES!
To shorten the waiting time for your next holiday a little, we have put together a few videos for you. Just click on the video symbol here.

Epcot: Disney World Walking Tour, Orlando.

Magic Kingdom: Disney World Walking Tour, Orlando.

Universal Studios: Walkthrough Tour, Orlando.
---

Want to learn about the 95+ golf courses in Naples? If YES, click on the GOLF button.
---

Insiders have known it for a long time: For the fourth time in a row, NAPLES in Southwest Florida is the happiest and healthiest city in the US. No less than the world-renowned market research institute GALLUP has determined this with an annual survey for 2018. It is about the attitude to life, the satisfaction and the safety of thousands of respondents in 186 cities and metropolitan regions of the USA.
---

Book your vacation via Internet
More than a third of all Europeans plan their holiday with the help of the Internet. More than 31 million Germans have already booked trips on the World wide web. Number 'One' is booking of flights and overnight stays, followed by renting of cars and the purchase of train tickets. The mass of online users is 30 to 64 years old.
Your vacation starts here with a click on...
e-mail
.
---

FLORIDA SUN MAGAZIN! (For our German Visitors)
FLORIDA is fantastically beautiful. The makers of 'Florida Sun Magazine' have also been fascinated by the charm of this unique state for years. With the high-quality media products they try to convey some of this enthusiasm to you - made by Florida fans for Florida fans.
Please click on the oval 'CLICK button' to learn more.
---

Guess, which US cities have the best reputations for accommodations for the year 2016? A big hotel booking company verified their user reviews to answer that question. Here is the result:
#1 = NAPLES, Florida
#2 = KEY WEST, Florida
#3 = CHARLESTON, South Carolina
#4 = LAHAINA, Hawaii
#5 = BAR HARBOR, Maine
---

VIDEOS - a lot of VIDEOS!
NaplesGolf
has discovered the VIDEO! On our website named
SIGHTSEEING
we added VIDEOS to the most relevant attractions. Make an event with your friends and show them how beautiful NAPLES is. This icon stands for a VIDEO. Click on it:

TIP:
If your TV has an HDMI port and your computer too, then you only need a high-speed HDMI cable (important: 1,3 b / 1080p) for about $10 and you can play the videos on your big flat screen TV.
---
Do you want to get two coupons worth up to

$80 for FREE?


If you play on

GOLDEN GATE GOLF COURSE

with a foursome everyone will get $10 off. The second coupon is for

VALENCIA GOLF & COUNTRY CLUB

. Please send us an e-mail and you'll get the coupons by mail.
---

Why Naples?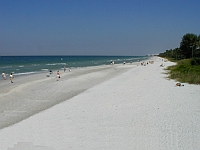 Near Naples Pier
From its beginning as a tiny fishing village, to its present day sophistication, Naples remains one of the most beautiful tropical enclaves in the world! Visitors and residents flock to the white sandy beaches to experience the soothing Gulf waters. Some of the world's most famous golf course designers have created challenging courses that have put Naples on the map as a premier golfing destination. Naples' cultural arts community is growing everyday. The 'Philharmonic Center for the Arts' brings world-class entertainment to its stage every season, attracting patrons from all along the Southwest Florida coast. A variety of theatre groups, outdoor concerts, art galleries, and festivals add excitement all year long. At the beaches you'll find miles of marvelous, white sand, clean snack bars, showers and restroons; only a 30 minutes ride and you'll be at the International Airport fo Fort Myers.

Testimonials

One of our maxims is: CUSTOMER FIRST. We want your most important time of the year- your vacation - to become your most beautiful. But if shadows should appear (a problem) in spite of the intense Florida sun, our caretakers will act immediately. Our customers appreciate the excellence of our service and the high quality of our Holiday Homes.

Our customers pick NaplesGolf because...
the quality of the accommodation is above average,
our caretakers of the accommodation are excellent,
professional and friendly assistance,
our rental rates are reasonable and fair,
we are in this market since 1999 and
we answer any e-mail within 24 hours.

Please click on the following references:

Help / Info / FAQ's

Our section Frequently Asked Questions becomes bigger and bigger so that we put an 'alphabetical index' ahead.
Click on GO button to get to our HELP / INFO / FAQ's section.