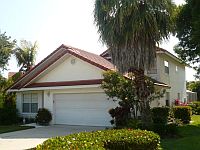 Frontside of House
and is very exclusive with a private heated pool.
Our renters like the marvelous LAKE VIEW. To your right and to your left you see tropical plants and flowers all over. The pool deck is "very private". Nobody can watch you on pool deck.
Spacious for 6 persons: 3 bedrooms, 2 bathrooms and an extra guest bathroom!
Please send us an

, if you have any questions. You will already find many answers on our site
!
Please click HERE, for references.